Thursday, March 12, 2009
Unidling
I'm unidling myself for the next dynasty.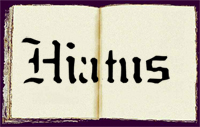 Welcome, Guest!
IRC Channel
Blognomicbot is offline. The channel may or may not be active right now.
2 Pending Proposals

Money's Last Stand (34 hours old - 3 comments - by ayesdeeef)
Nota Bene (32 hours old - 5 comments - by Kevan)

Pending Calls for Judgement

None.

Pending Declarations of Victory

None.

Other Pending Votable Matters

None.
Game Data
Current Active Players
(admins in bold and *)
There are 8 players. Quorum is 5.
Archives
"Nomic is a game in which changing the rules is a move. In that respect it differs from almost every other game. The primary activity of Nomic is proposing changes in the rules, debating the wisdom of changing them in that way, voting on the changes, deciding what can and cannot be done afterwards, and doing it. Even this core of the game, of course, can be changed."
-- Peter Suber
Powered by pMachine ExpressionEngine